Wisdom, friendship, responsibility, security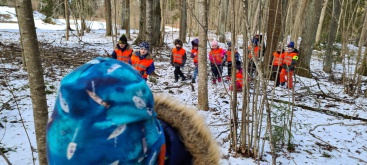 10.05.2022.
Be careful, be safe!
As part of the Jimba security program, the 6-year-old "Rūķītis" students, led by security agent Aiga, learned to listen to their inner instincts, recognizing insecure situations.
The training materials created by the Kalsnava Arboretum were used in the exercise of the acquired knowledge. Knowing the nesting habits of birds, cages of birds, tree cavities, nests that protect birds allow them to feel safe in the natural environment.
The children, in the parks available in the urban environment, enjoyed the experience of walking both on well-groomed paths and on natural undergrowth, overcoming natural obstacles - already outside the comfort zone. Each situation was critically assessed, the decisions made by oneself became important, and the support of a friend was all the more important. The children practiced controlling their bodies by feeling how they react to alarming situations when the 'internal alarm' is activated.
Wisdom, friendship, responsibility, security: a cognitive, educational, emotional and thought-provoking day!